NEAT and EAF
Network of East Asian Think-Tanks (NEAT)
The 1st Annual Conference of NEAT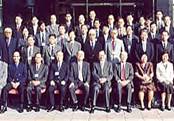 Participants of
the 1st Annual Conference
The 1st Annual Conference of the Network of East Asian Think-tanks (NEAT) was held in Beijing, China on September 29-30, 2003. Think-tank representatives and intellectuals from ASEAN+3 actively participated and agreed to establish a network of think-tanks to strengthen regional cooperation in East Asia. Japan was represented by 5 intellectuals: Prof. ITO Kenichi, President & CEO of JFIR, Prof. TANAKA Akihiko, Professor of the University of Tokyo, Prof. HIRONO Ryokichi, Professor Emeritus of Seikei University, Dr. YOSHITOMI Masaru, President & Chief Research Officer of Research Institute of Economy, Trade Industry and Mr. HIRATSUKA Daisuke, Director of APEC Study Center and Director of Regional Integration Group, Institute of Developing Economies, JETRO, and Dr. JIMBO Ken, Director of Research at JFIR, the Country Coordinator of Japan.
At the 1st Annual Conference, Mr. Tang Jiaxuan, State Councilor of China, gave a speech on the opening session, stating that "Not only cooperation on a governmental level but also cooperation among the think-tanks are important for strengthening cooperation in East Asia. NEAT was established through the ASEAN+3 governmental processes and is expected to submit policy recommendations. Thus, we should respond to such expectations."
It was agreed that NEAT should hold the Annual Conference on a rotation within the member countries and invite institutional and scholar members of ASEAN+3. The function of NEAT is to share academic resources to provide intellectual support for the cooperation in East Asia, which will establish a platform to promote mutual intellectual exchanges of researches among the member countries.